Quinn arrived Dec 29th, 2003. One of a litter of 8 perfect beautiful bundles of joy born to Bayleigh and Malacai. To see his baby pictures, click here.Quinn was "spoken for" by the time he was 3 weeks old. His "future forever Mom", Tracey Koehn, fell in love with him and named him Quinn.
He grew very fast and had a love of life I never could explain. He learned to crawl and then to walk, learned the joys of "Momma's milk" and the pleasures of eating (and wearing) puppy mush and the feeling of confidence after having pounced on and defeated the stuffed bear..

When Quinn was 6 weeks old in Feb. of 2004, we had a tragic fire at our kennel. We were in town that morning picking up supplies. Most of the buildings burned to the ground. I lost a lot that day, including my faith.

Quinn's litter was pulled from the flames by one of my neighbors, God Bless him, I can't even begin to think what would have happened had he not been home..

We lost one male puppy fro the litter, the others were untouched, except Quinn,

he suffered some burns on his back.

Quinn's Mom was notified of what had happened and of course,  given the oppourtunity to take another puppy or wait for the next litter. She was told that there was no hurry to make a decision. It became evident as the days past, that Quinn's burn were worse than us and the Vet's thought at first. He had very severe burns covering his lower back. He made a trip to the Vet every other day for treatment 

Quinn never complained. He had a heart bigger than Texas and was willing to share it with all he came in contact with. There were days following the fire that I just wanted to curl up in a ball and quit. Quinn was my inspiration, he gave me the will to go on. If that puppy could be happy and wag his tail all the time after what he'd been through, then I could too.x

Tracey, Quinns future Mom and I were in constant contact. I sent updates and pictures. After thinking on it for several weeks, she told me she wanted Quinn, no matter what.  I was so happy that she hadn't "changed her mind" because he would have scar!

Quinn got the okay to travel and on March 27th, 2004, he flew to his new home in Houston, TX.

Things were going well, Quinn continued to heal and Tracey was also awed and inspired by his heart and gentle soul. We communicated several times a week discussing his recovery and antics..

Time passed and the communications became less frequent. In May of 2004, Tracey phoned to say Quinn had what her Vet had diagnosed as "a mild case of HOD". We talked about how to deal with it and I was in touch with a Vet friend of mine and we all collaborated on Quinn's treatment plan.

He seemed to be getting better, then took a turn for the worse. Quinn didn't want to get up by himself and was having some pain and swelling. I talked daily to Tracey and encouraged her that it would pass.

I then received several emails from Tracey over the next couple weeks that were very upsetting to me. Tracey was ready to "give up" on Quinn, she said she was not "strong enough to deal with this, she thought she was, but was discovering she was not.

Some of the emails were so that I was worried she had him put down. I tried desperately to contact her via phone and email. I told her I would NEVER give up on Quinn. He had given me back my faith and gave me a will to surrive. I OWED him all that and MORE in return. I told her we would come get him.

She finally emailed and  said she was not giving up on him, that she was just feeling inadequate. She would fight with him...................

I kept in contact and she sent me occasional reports. He did get better and was getting up on his own and walking outside by himself again. I was SO happy and it seemed so were Tracey and Quinn.

We have a "Family Reunion" every year in Oct.. I had sent Tracey an invitation and it was returned "moved-left no forwarding address". So I emailed her asking for her new address and how was Quinn, she did not reply. I sent the notes to her work email and no reply. I tried to phone and the number had been disconnected. I was very worried about where they went and how was Quinn..

On Oct. 14th, 2004 I received a call from the Austin Texas animal shelter. They had a dog that was turned in as a stray and his micro chip number was registered to me. They gave me the number and I looked it up. I was in complete shock and disbelief when the number was Quinn's! I was devastated. I explained the whole story to the lady and then told them we would come get him immediately! I cried and cried, how could this happen to this gentle soul that had been through so much and gave so much to everyone around him? 

My husband and son made a 1,800 mile whirlwind 3 day trip to Austin TX to pick up Quinn. He was so happy that he sat with is head on my son's shoulder all the way back home. He was so thin and his legs still very bowed. His heart and spirit were still very much intact!

I tried contacting Tracey Koehn again many times. Someone from her work email replied to one of my messages stating that Tracey was on medical leave and they could not talk of it, nor did they have any idea when/if she would return.

This is Quinn today.......

He is a special boy!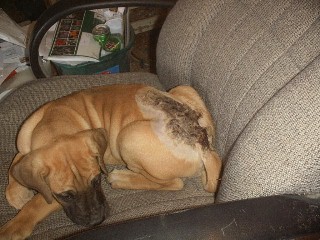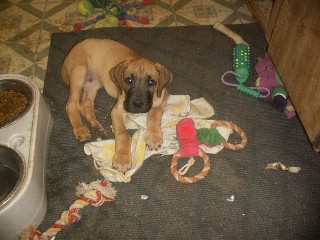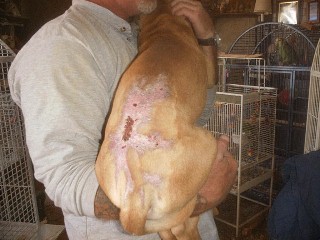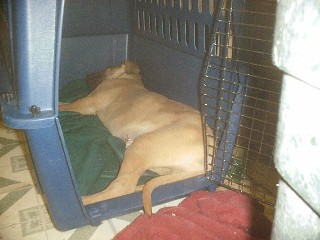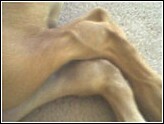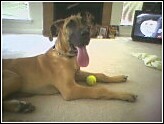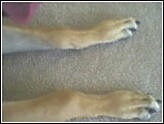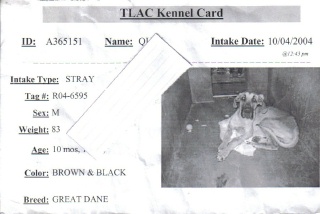 Quinn loves life and everything about it. He would love to have a family of his own, a REAL family, that when they said forever they meant it! If you think you can be that family, please phone or email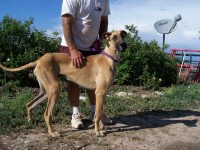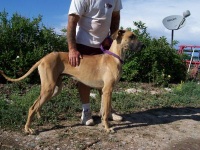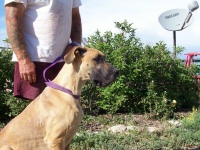 **update~

Quinn has been adopted and is doing well in his new home!